207 stays in club with 4 stars available on 30/09/2023
Your Holiday village with 4 STARS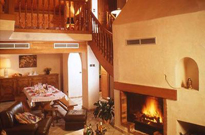 With the Ministry of tourism seal, your village club resort has been evaluated according to several criteria, revealing the level of comfort and quality. During this ranking, the services and facilities at your disposal have also taken into account.

Services offered in a village club resort categorized as 4 stars:
4-Star classified holiday villages offers a high grade rentals and has a larger accommodational area. The 2 person's rental covers a minimum surface of 18 m 2 without sanitary facilities. During your stay in a 4 star categorized holiday club resort, the reception service is provided in 2 foreign languages, including English.