Résidence Club Mimozas Resort Cannes (Mandelieu la napoule)
Résidence Club Mimozas Resort Cannes: find the cheapest stay
Main assets of this holiday village:
With a carpark

Club with a pool

Restaurant
Find the cheapest stay in Mandelieu la napoule among the largest number of camping specialists offering holidays in Résidence Club Mimozas Resort Cannes. Compare accommodations, read reviews, find coupon code and see the price evolution of Résidence Club Mimozas Resort Cannes in order to find the best price stay in Mandelieu la napoule
Adresse
Résidence Club Mimozas Resort Cannes
Avenue Gaston de Fontmichel
06210
Mandelieu la Napoule
Résidence Club Mimozas Resort Cannes
Enjoy your holiday with kids club at Résidence Club Mimozas Resort Cannes for the best price by comparing the offers from the largest choice of holidays in Cannes. Résidence Club Mimozas Resort Cannes is the ideal place to spend your holidays with family or friends in Cannes.
The location of your village club resort at Mandelieu la napoule will allow you to discover and enjoy the multiple activities of the region.
During your holidays at Mandelieu la napoule, the swimming pool of the holiday club resort offers much relaxation time with your family or friends. In this vacation club, you can come with your cat or dog as our friends, the animals, are accepted. The vacation club resort is situated close to the golf course so that you can take advantage of the green tracks during your holidays. For a sports oriented holidays, the club offers tennis courts. Your holiday club resort situated near the thalassotherapy of Mandelieu la napoule, a well-being destination particularly appreciated by the connoisseurs With its neat environment and its numerous services, you'll stay in a quality vacation club. You will find in this holiday village resort with great accommodations ideally suited for a stay with your tribe. In this club, no need to clutter with your baby bed, you have the option to rent one on the spot. If at the end of your stay, you do not want to clean your home, you can opt for a paid maid service. You can park your car safely in the parking provided for this purpose, if you are driving to the club. You will find a restaurant in the club resort for the days when you will decide not to cook in your accommodation. In this club, you will have the possibility of moving your stay from Sunday till Sunday, to avoid congestion caused by the departures of Saturday.
Price per accommodation and per stay


(booking fees included)
Cheapest offers
:
29 January 2022
for
1 week

Our favourites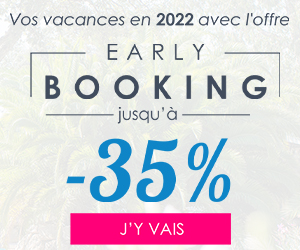 EARLY BOOKING
Up to -35% on your stay in a camping village More details

Holiday village prices located nearby

Résidence Club Mimozas Resort Cannes