549 stays in holiday club in SAINT MANDRIER available
Compare club resorts for your holiday in Saint mandrier
Your Holiday village in SAINT MANDRIER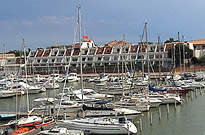 Compare the different properties to rent on club holidays in Saint Mandrier in le Var for your next family holiday! The Peninsula welcomes you the Toulon harbor landscapes, it is a beautiful destination where you can enjoy sailing and water sports with your children. On the Peninsula you can also wander by foot or bicycle to the coast. You can also relax along the Mediterranean landscapes during your club holiday in Saint Mandrier.

In the surrounding area, there are plenty of sites for tourists to visit with their families. You can go for a walk in Toulon which joins onto the Mont faron where you will have a beautiful view of the whole landscape and the sea front. With your children, you can also visit the Fauverie of Mont Faron for a stroll.

A little more remote, the beautiful islands of Hyes are ideal for walks before relaxing on one of the beautiful beaches with fine sand islands, during your stay in the Var. As for entertainment, you can take your children to the aquatic park in Hyères. During your holidays in Saint Mandrier, you can also travel by car to the Gulf of Saint Tropez, with the famous village which is located quietly below of the Massif des Maures.