Camping Marina Paradise (Port cogolin)
Camping Marina Paradise: find the cheapest stay
Main assets of this holiday village:
Club with a pool

Pets allowed

Washing machine
Find the cheapest stay in Port cogolin among the largest number of camping specialists offering holidays in Camping Marina Paradise. Compare accommodations, read reviews, find coupon code and see the price evolution of Camping Marina Paradise in order to find the best price stay in Port cogolin
Adresse
Camping Marina Paradise
20 Avenue Frédéric Mistral
Camping Marina Paradise
Your holiday club welcomes you for a stay at Port cogolin, a holiday resort that you will much appreciate.
Among the accommodation proposed in this holiday club resort at Port cogolin, you can enjoy your stay in a mobile home. Here you have at your disposal a swimming pool to enhance your stay at Port cogolin club. Cats, dogs or other pets are welcome in this vacation club resort. Book here, cheap holidays at Port cogolin while staying in one of the apartments of this vacation club resort. You can use as you please the self-service laundry of the club resort which is at the disposal the clientele. Make the most of your stay at the club resort by making the most of cycling tracks and walks in the region by renting a bike on the spot. If at the end of your stay, you do not want to clean your home, you can opt for a paid maid service. If you wish to take your meals outside of your apartment, a catering service is at your disposal on site.
Price per accommodation and per stay


(booking fees included)
Cheapest offers
:
15 May 2021
for
1 week

Our favourites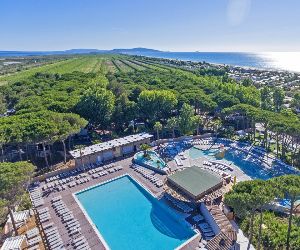 HOLIDAY IN JULY
Enjoy 7 days for the price of 5! Cancellation and change of stay free of charge until D-14 More details

Holiday village prices located nearby

Camping Marina Paradise