Camping club le domaine des Naïades (Grimaud)
Camping club le domaine des Naïades: find the cheapest stay
Main assets of this holiday village:
With a water park

Club with a pool

Shops nearby
Find the cheapest stay in Grimaud among the largest number of camping specialists offering holidays in Camping club le domaine des Naïades. Compare accommodations, read reviews, find coupon code and see the price evolution of Camping club le domaine des Naïades in order to find the best price stay in Grimaud
Adresse
Camping club le domaine des Naïades
Camping club le domaine des Naïades
Have you chosen Camping club le domaine des Naïades and holiday club for your next family holiday in Grimaud? If so, do you know who offers your stay at Camping club le domaine des Naïades for the cheapest price? To find out, compare the offers and enjoy your family holiday in Grimaud at the best price.
Located at Grimaud, your village club resort will allow you to enjoy many activities and infrastructure at your disposal for your holiday.
This village club resort at Grimaud allows you to spend your holiday in a mobile home and enjoy its cordiality. Here you have at your disposal a swimming pool to enhance your stay at Grimaud club. For the pleasure of your children, the club holiday resort hosts a water park to allow them to spend a nice holidays. You can take your pet to the village club resort so that it accompanies you during your stay. For your comfort, your holiday village resort is situated close to several shops. You can use as you please the self-service laundry of the club resort which is at the disposal the clientele. In this club, no need to clutter with your baby bed, you have the option to rent one on the spot. You will find a restaurant in the club resort for the days when you will decide not to cook in your accommodation.
Price per accommodation and per stay


(booking fees included)
Cheapest offers
:
04 April 2020
for
1 week
Our favourites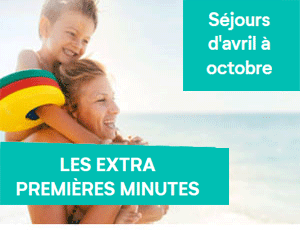 EXTRA EARLY BOOKING
Up to 30% off on extra early booking More details

Holiday village prices located nearby

Camping club le domaine des Naïades