Camping le Fréjus (Fréjus)
Camping le Fréjus: find the cheapest stay
Main assets of this holiday village:
Nearby the sea

With a water park

Stay available sunday to sunday
Find the cheapest stay in Fréjus among the largest number of camping specialists offering holidays in Camping le Fréjus. Compare accommodations, read reviews, find coupon code and see the price evolution of Camping le Fréjus in order to find the best price stay in Fréjus
Adresse
Camping le Fréjus
Camping le Fréjus
Enjoy your holiday with kids club at Camping le Fréjus for the best price by comparing the offers from the largest choice of holidays in Fréjus. Camping le Fréjus is the ideal place to spend your holidays with family or friends in Fréjus.
Your holiday club resort at Fréjus will allow you to spend a pleasant stay in a popular destination for family holidays.
Within the village club resort, stay at Fréjus in a mobile home to find the conviviality of a stay in the open air accommodation. During your holidays at Fréjus, the swimming pool of the holiday club resort offers much relaxation time with your family or friends. You can easily access the beach from your apartment, since the club resort is situated close to the sea. For the pleasure of your children, the club holiday resort hosts a water park to allow them to spend a nice holidays. During your stay at Fréjus, you will have the possibility of perfecting your lapel on the tennis court of the village club resort. If you are looking for a cheap stay Fréjus, this holiday village is for you. The holiday club resort hands you the possibility to stay from a Sunday to Sunday period, in order to avoid the stream of holidaymakers on the roads.
Price per accommodation and per stay


(booking fees included)
Cheapest offers
:
09 April 2022
for
1 week
Our favourites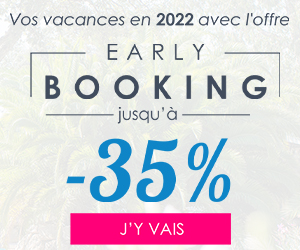 EARLY BOOKING
Up to -35% on your stay in a camping village More details

Holiday village prices located nearby

Camping le Fréjus