Résidence Néméa Les Roches (Saint pol de léon)
Résidence Néméa Les Roches: find the cheapest stay
Main assets of this holiday village:
With a tennis court

Golf

Washing machine
Find the cheapest stay in Saint pol de léon among the largest number of camping specialists offering holidays in Résidence Néméa Les Roches. Compare accommodations, read reviews, find coupon code and see the price evolution of Résidence Néméa Les Roches in order to find the best price stay in Saint pol de léon
Adresse
Résidence Néméa Les Roches
RUE DU PORT
Résidence Néméa Les Roches
Have you chosà la Résidence Néméa Les Roches and holiday club for your next family holiday in Saint pol de léon? If so, do you know who offers your stay at Résidence Néméa Les Roches for the cheapest price? To find out, compare the offers and enjoy your family holiday in Saint pol de léon at the best price.
Located at Saint pol de léon, your village club resort will allow you to enjoy many activities and infrastructure at your disposal for your holiday.
During your holidays at Saint pol de léon, the swimming pool of the holiday club resort offers much relaxation time with your family or friends. Your vacation club resort enjoys an ideal location, being close to the sea, you can take full advantage of your stay at Saint pol de léon. Cats, dogs or other pets are welcome in this vacation club resort. Your vacation club is close to the golf course, which enables quick access to the golf course so that you can enjoy and make the most of the practice area while during your stay. Regardless of the time, you can swim in the indoor pool of the club, which will make the joy of the both kids and adults. The village club resort accommodates a tennis court which will make the happiness of the sports fanatics. From your village club resort, come and take advantage of a stay close to the thalassotherapy of Saint pol de léon, a destination renowned for its wellness center. You can make the most of a house located in the holiday resort and enjoy its warm and welcoming atmosphere. With its neat environment and its numerous services, you'll stay in a quality vacation club. Your holiday club resort is situated in close proximity to shops, so you can do your shopping without having to use your car. Large apartments are bookable within this village club to satisfy the needs of large families. For the comfort of your stay, a Laundromat is at your disposal at the village club during your vacation. In this club, no need to clutter with your baby bed, you have the option to rent one on the spot. If at the end of your stay, you do not want to clean your home, you can opt for a paid maid service. You can park your car safely in the parking provided for this purpose, if you are driving to the club. The holiday club resort hands you the possibility to stay from a Sunday to Sunday period, in order to avoid the stream of holidaymakers on the roads.
Price per accommodation and per stay


(booking fees included)
Cheapest offers
:
21 December 2019
for
1 week
Our favourites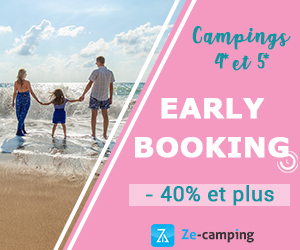 EARLY BOOKING
Up to 40% off! Book your camping holidays More details

Holiday village prices located nearby

Résidence Néméa Les Roches