Résidence Iroise Armorique (Locmaria-plouzané)
Résidence Iroise Armorique: find the cheapest stay
Main assets of this holiday village:
Nearby the sea

Cottage

With a sauna / whirpool bath
Find the cheapest stay in Locmaria-plouzané among the largest number of camping specialists offering holidays in Résidence Iroise Armorique. Compare accommodations, read reviews, find coupon code and see the price evolution of Résidence Iroise Armorique in order to find the best price stay in Locmaria-plouzané
Adresse
Résidence Iroise Armorique
Rue Armorique
Résidence Iroise Armorique
Compare the price of a holiday with a kids club at Résidence Iroise Armorique in Locmaria-Plouzané and find the cheapest deal. Résidence Iroise Armorique is a charming holiday village and you will leave with unforgettable holiday memories after your next holiday in Locmaria-Plouzané.
Your holiday club is located at Locmaria-plouzané and will be an excellent starting point to visit a region has a number of various attractions.
During your holidays at Locmaria-plouzané, the swimming pool of the holiday club resort offers much relaxation time with your family or friends. You can easily access the beach from your apartment, since the club resort is situated close to the sea. In this vacation club, you can come with your cat or dog as our friends, the animals, are accepted. Regardless of the time, you can swim in the indoor pool of the club, which will make the joy of the both kids and adults. Here, enjoy your stay in a house at the village club, where you will appreciate its space and accessibility. Large apartments are bookable within this village club to satisfy the needs of large families. To do your laundry during your vacation, the club puts at your disposal a laundry service. In this club, no need to clutter with your baby bed, you have the option to rent one on the spot. During your stay, you will be able to leave your car in the car park located inside the club resort compound. At your convenience, you can enjoy the benefits of a sauna or Jacuzzi. A Wi-Fi area allows customers of the vacation club resort to access internet during their stay.
Price per accommodation and per stay


(booking fees included)
Cheapest offers
:
20 August 2022
for
1 week
Our favourites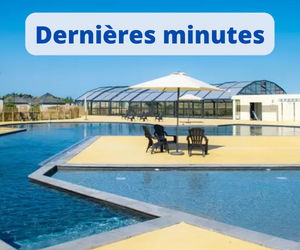 LAST MINUTES
Enjoy a 10% discount for your camping stay More details

Holiday village prices located nearby

Résidence Iroise Armorique