Village Pierre et Vacances Belle Dune (Fort mahon plage)
Village Pierre et Vacances Belle Dune: find the cheapest stay
Main assets of this holiday village:
Baby bed

With a carpark

Cottage
Find the cheapest stay in Fort mahon plage among the largest number of camping specialists offering holidays in Village Pierre et Vacances Belle Dune. Compare accommodations, read reviews, find coupon code and see the price evolution of Village Pierre et Vacances Belle Dune in order to find the best price stay in Fort mahon plage
Adresse
Village Pierre et Vacances Belle Dune
Village Pierre et Vacances Belle Dune
Compare the price of a holiday with a kids club at Village Pierre et Vacances Belle Dune in Fort mahon plage and find the cheapest deal. Village Pierre et Vacances Belle Dune is a charming holiday village and you will leave with unforgettable holiday memories after your next holiday in Fort mahon plage.
Located at Fort mahon plage, your village club resort will allow you to enjoy many activities and infrastructure at your disposal for your holiday.
Here you have at your disposal a swimming pool to enhance your stay at Fort mahon plage club. For the pleasure of your children, the club holiday resort hosts a water park to allow them to spend a nice holidays. In this vacation club, you can come with your cat or dog as our friends, the animals, are accepted. Your vacation club is close to the golf course, which enables quick access to the golf course so that you can enjoy and make the most of the practice area while during your stay. Regardless of the time, you can swim in the indoor pool of the club, which will make the joy of the both kids and adults. The village club resort accommodates a tennis court which will make the happiness of the sports fanatics. Several accommodations are studied in order to enable persons with reduced mobility to spend a pleasant stay. Here, enjoy your stay in a house at the village club, where you will appreciate its space and accessibility. Its facilities and its services, make this holiday club one of the most sought-after club resort. Your holiday club resort is situated in close proximity to shops, so you can do your shopping without having to use your car. Club holidays offering great spacious accommodation that can host at least 6 people or more, in order to bring more comfort for your family holiday. You can use as you please the self-service laundry of the club resort which is at the disposal the clientele. You can rent a bed or baby kit if you go on vacation with a newly born. You can park your car safely in the parking provided for this purpose, if you are driving to the club. If you wish to take your meals outside of your apartment, a catering service is at your disposal on site. In this club, you will have the possibility of moving your stay from Sunday till Sunday, to avoid congestion caused by the departures of Saturday.
Price per accommodation and per stay


(booking fees included)
Cheapest offers
:
04 July 2020
for
1 week
Our favourites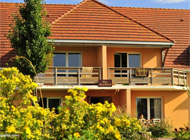 BOULLEVILLE
Residence with covered pool! Holiday deals from 391 €/week in an apartment 4 pers. this summer More details
Holiday village prices located nearby

Village Pierre et Vacances Belle Dune