Résidence Odalys Les Gardians (Arles)
Résidence Odalys Les Gardians: find the cheapest stay
Main assets of this holiday village:
With a sauna / whirpool bath

Standing

Low price
Find the cheapest stay in Arles among the largest number of camping specialists offering holidays in Résidence Odalys Les Gardians. Compare accommodations, read reviews, find coupon code and see the price evolution of Résidence Odalys Les Gardians in order to find the best price stay in Arles
Adresse
Résidence Odalys Les Gardians
Résidence Odalys Les Gardians
Enjoy your holiday with kids club at Résidence Odalys Les Gardians for the best price by comparing the offers from the largest choice of holidays in Arles. Résidence Odalys Les Gardians is the ideal place to spend your holidays with family or friends in Arles.
The location of your village club resort at Arles will allow you to discover and enjoy the multiple activities of the region.
During your holidays at Arles, the swimming pool of the holiday club resort offers much relaxation time with your family or friends. Cats, dogs or other pets are welcome in this vacation club resort. The green of the golf is situated near your village club resort, so that you can learn or perfect in this sport. For a sports oriented holidays, the club offers tennis courts. Several accommodations are studied in order to enable persons with reduced mobility to spend a pleasant stay. With its neat environment and its numerous services, you'll stay in a quality vacation club. If you are looking for a cheap stay Arles, this holiday village is for you. For the comfort of your stay, a Laundromat is at your disposal at the village club during your vacation. You can rent a bed or baby kit if you go on vacation with a newly born. In this vacation club, bikes are for rent to complement your stay for rides and promenades in the surrounding area. At the end of your holiday, you need to leave your own accommodation spotless clean or choose the cleaning service proposed by the club resort. You can park your car safely in the parking provided for this purpose, if you are driving to the club. If you wish to take your meals outside of your apartment, a catering service is at your disposal on site. Come and relax in the sauna or Jacuzzi at your disposal, in this vacation club resort, during your stay. You can for this club holiday resort, reserve a stay from Sunday to Sunday, to avoid you the inconvenience of the congested roads of Saturdays. A Wi-Fi area allows customers of the vacation club resort to access internet during their stay.
Price per accommodation and per stay


(booking fees included)
Cheapest offers
:
08 October 2022
for
1 week
Our favourites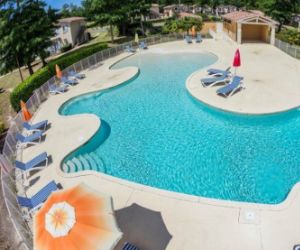 INDIAN SUMMER
Last minutes to benefit from up to -45% on your holiday rental More details

Holiday village prices located nearby

Résidence Odalys Les Gardians