Goelia Argeles Village Club (Argelès sur mer)
Goelia Argeles Village Club: find the cheapest stay
Main assets of this holiday village:
Pets allowed

Baby bed

Large apartment
Find the cheapest stay in Argelès sur mer among the largest number of camping specialists offering holidays in Goelia Argeles Village Club. Compare accommodations, read reviews, find coupon code and see the price evolution of Goelia Argeles Village Club in order to find the best price stay in Argelès sur mer
Adresse
Goelia Argeles Village Club
Chemin de Neguebous
Goelia Argeles Village Club
Enjoy your holiday with kids club at Goelia Argeles Village Club for the best price by comparing the offers from the largest choice of holidays in Argelès sur mer. Goelia Argeles Village Club is the ideal place to spend your holidays with family or friends in Argelès sur mer.
Your holiday club welcomes you for a stay at Argelès sur mer, a holiday resort that you will much appreciate.
To spend a pleasant holiday at Argelès sur mer, the pool is one of the major attraction of this holiday club resort, ideal for a family stay. You can take your pet to the village club resort so that it accompanies you during your stay. You can make the most of a house located in the holiday resort and enjoy its warm and welcoming atmosphere. Its facilities and its services, make this holiday club one of the most sought-after club resort. If you are looking for a cheap stay Argelès sur mer, this holiday village is for you. You will find in this holiday village resort with great accommodations ideally suited for a stay with your tribe. For the comfort of your stay, a Laundromat is at your disposal at the village club during your vacation. In this club, no need to clutter with your baby bed, you have the option to rent one on the spot. At the end of your holiday, you need to leave your own accommodation spotless clean or choose the cleaning service proposed by the club resort. You can park your car safely in the parking provided for this purpose, if you are driving to the club.
Price per accommodation and per stay


(booking fees included)
Cheapest offers
:
02 October 2021
for
1 week

Our favourites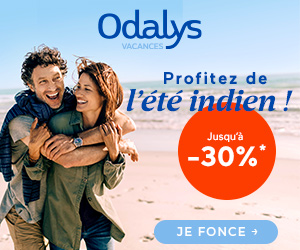 ETE INDIEN
Jusqu'à - 30% sur votre séjour en septembre et octobre More details

Holiday village prices located nearby

Goelia Argeles Village Club